The Pivot: from the Marines to music, to making the most of human potential - with Ben Roosink
The Pivot is a series where the team at Fondo talk to people with non-linear careers about how they navigated the changes - the pivots - in their career journey. The people we speak with come from a diverse range of industries, countries and career stages - but they all have one thing in common: they've made the pivot.
This time we're heading to the Netherlands, meeting Gerben (Ben) Roosink. Ben runs a coaching practice where he focuses on opening up human potential in ways that don't stress people out. His path to get to this point took him through not one, not two, but three very different industries.
Here's Ben's story.

I grew up in a small town in the East of the Netherlands. At 16, I either wanted to become a professional football player or go to the Rock Academy and become a drummer. I thought I had talent for both, but I never really got the recognition from anyone that would encourage me along one path or the other. It made me doubt myself.
My parents said I needed to be a really good drummer to ever earn proper money, so I took their advice and made a sensible, rational decision: I decided not to follow the path to being a drummer.
After college, I thought about going into the Army, maybe as staff, but I needed at least 1 year of a Bachelor's degree with a lot of maths. The degree wasn't a good idea and I quit after 2 months, but I made a friend in my class who was training for the Marines.
He asked, "why don't you join me?"
I could see myself on that path, especially because I had wanted to be in the Army to go and prove myself.
In my eyes, the Marines was the highest level one could go; it was the best possible way I could prove myself. I didn't know exactly what I wanted to do with the rest of my life, but it felt like the closest thing to being at the very top level. I started training at 17 and a year later I joined the Marine course. I worked hard for that because I wanted to show the world: If I can do it, everybody can!
I was thrilled to finish the training course, and was one of six finishers (out of 40) who was rewarded with a letter to join the leadership course within a year.

Loopholes
I began my life as a Marine, but soon found out that I didn't like it at all. The levels of autonomy were even lower than I had imagined, but I had locked myself into a 4 year contract.
By this point I couldn't really get out of it so I tried to make the best of the opportunity, but I started to get increasingly recalcitrant. Even the prestige of going into the leadership program wasn't interesting to me anymore.
Inevitably, my energy drained as time went on, and in the third year I decided I needed to do something different. After a lot of research and lobbying I found a few loopholes in the system and was able to restart my studies.
Festivals interested me because I knew I could organise, I was playing guitar, and I liked team sports. I also secretly still wanted to be a pro musician, too. I discovered there was a program in music management at an art school in Utrecht, so I left the Marines and enrolled.
In the 3rd year of the music management program, when I was 24, I needed to find an internship. I found a small company of entrepreneurial guys who ran parties as marketing events for big brands. I joined them doing production on their events - they were having fun, creating big parties and doing business at the same time. I really looked up to these guys and I felt that this was my path to joining the event industry in Amsterdam.

Double Life
Straight after the internship I became the company's Head of Production. During those last 2 years of art school I was working full time as Head of Production at the same time I was completing my studies.
It was tough, but I had a drive to be able to do both, and this was the time when I really found my strength; I could fulfil the production role because I was a structured person, but the situation also helped the creative, fun part of me come out, too.
It was a well-known company in Amsterdam, and the title of Head of Production was cool, however after I graduated my energy started to drop. I knew production wasn't quite for me. It wasn't until much later that I finally found out why I could handle the 60 hours a week working for the company and still finish my degree, but that my energy would often - and suddenly - drop out from under me...
Around that time, I started working with a coach. I decided I had gotten what I needed from being Head of Production, and so I chose not to continue with the event company. At this point I was 26, had just graduated, and didn't know what was next.

Back to the crossroads
I went traveling for a year. For the first 3 months I did nothing; it was pure serendipity (and I collected several tourist visas!).
During this time I recognized how much I loved having conversations with people about what they wanted to do in life - what drives them - and I played guitar, a lot.
So, I was back at the crossroads - do I pursue music, or keep it as a hobby? I thought back to my work with the coach, and realised that music was truly my passion, and that I could do it as a career. I also started doing some coaching while I was traveling; that focus of helping people to reach their higher level helped me reach mine.
When I came back, I sent my old coach Ton an email with my plan; I told him I felt like an entrepreneur but knew I still had a lot to learn before I could coach full-time. Ton said fine, but wanted me to work with him for 2 years. I said 1. Eventually it worked out to be a year and a half.
After those 18 months, I found myself at the start of a new adventure: starting my own coaching business. I wanted to help people find that energy which is inexhaustible, the same energy I had during the Marine course and working as Head of Production while doing my studies.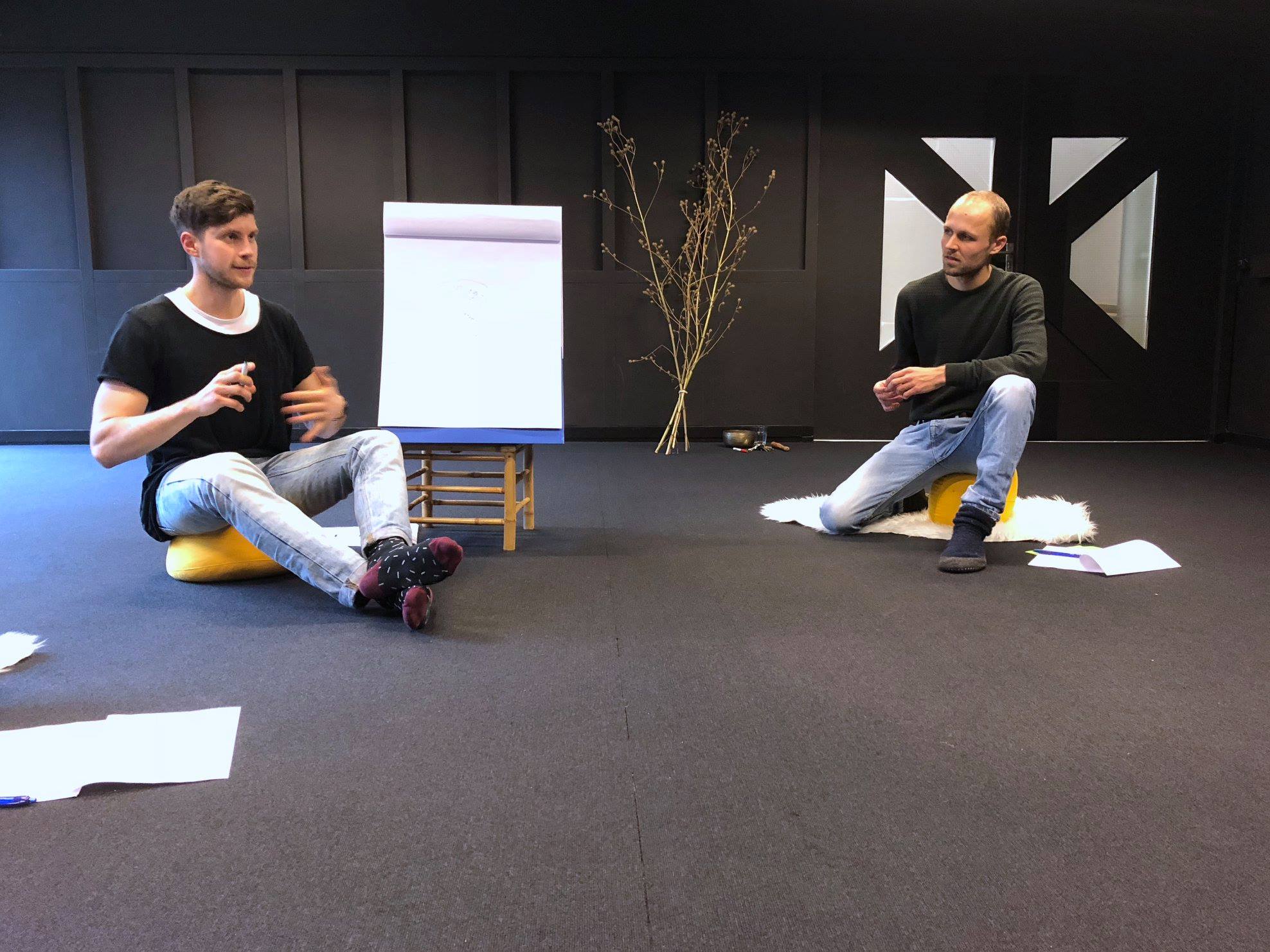 Persistence, Willpower, Vulnerability, Weakness
In the Marines I learned a lot about persistence. In life we can persist for a long time, but the experience drained my energy as well. Then at the production company it was my willpower that enabled me to graduate and work at the same time. I was busier than ever, but it didn't drain my energy. This is what happens when you've got willpower. I realised the difference between my persistence and my willpower.
After graduation I went back to relying on my persistence, and I didn't have fun anymore. And it felt the same as that last year of the Marines.
The hardest thing was going from Marines to art school; my mindset was "I was a Marine; I can do anything. These art people...they don't have discipline." I had a conviction about that, but it was very much a limiting belief.
Then I noticed the art people had a lot of skills I didn't, and developing some of these skills gave me much more freedom as a person. My classmates really had the ability to make choices based on feeling and therefore were more relaxed, but also they sometimes didn't finish their assignments. I always finished my assignments out of persistence, but I realised that I was limited because I wasn't as in-touch with my sense of feeling.
Recognizing I needed to trust my feelings was probably the hardest thing because it meant I also needed to be vulnerable. In the Marines, 'vulnerable' meant 'weak', and I couldn't be weak; I was a Marine, after all.
Looking back, all the choices I've made have been based on what I actually really wanted to do: joining the Marines, my job as Head of Production in combination with finishing my studying at the same time, and now building my own business. Each of these roles has been as much about proving I can do something as it has been about inspiring others to use their own potential - to take the most out of their life, whatever 'most' may mean for them. Realizing that I'm driven by inspiring others has enabled me to build a career that I won't get tired of.

Ben's advice for making Career Pivots
A theory I use a lot in my coaching is to use the different communication systems we have. We have our brain, and we also have our heart and soul.
In our brain is everything we've learned. In our body we feel what we want to do.
Learn to feel what's inside and trust if it's a good feeling.
Also notice what you've learned, and sense when these things are matching.
This is a way of sensing if you're making a good choice.

For me, I want to inspire people while I also build my business. And I love playing guitar.
The business is the knowing (the brain), the other two are what I really want to do (the heart and soul). From there I've been able to make better choices about what I should focus on.
10 years ago, my parents told me how good I had to be to become a drummer. I didn't know if I was good enough, so my rationality took over and I pushed that path away; growing up, feelings were seen as weird where I grew up, so everyone was very rationale.
When it comes to making your career choices, I believe you need to experience something to learn it. It's good to know the theory, but there's no substitute for experience.
Have conversations with people who understand this way of thinking.
Reflect regularly on how connected you are.